Gender Equal NZ, led by the National Council of Women, congratulates the Vodafone NZ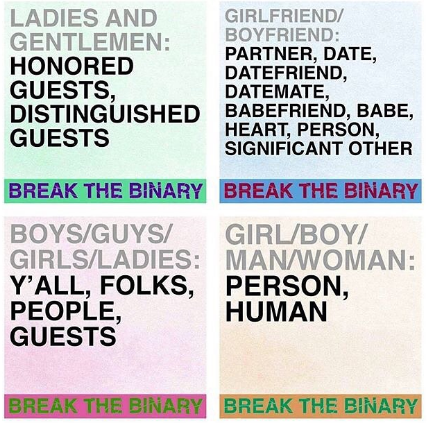 Music Awards on their decision to be more inclusive of all genders ahead of their Awards next week.
The decision was made by Vodafone NZ Music Awards to remove specific categories for male and female for the Best Solo Artist Award to recognise that some people do not identify with the rigid "either-or" options.
National Council of Women President and Gender Equal NZ spokesperson Vanisa Dhiru says she is thrilled to hear the music awards are moving toward equality in this area, "most of the time, we're given two options – you're either a man or a woman. And being a man or a woman comes with these stereotypes about being manly or being womanly."
"A manly man is someone strong, buff, good at rugby, earning lots and getting laid – right? A womanly woman is someone slim, beautiful, a good cook and someone who looks after others – right? Well – not quite."
"These ideas are limiting for all of us.  They don't allow most people to express all of who we are. Some of us do not fit neatly into the either-or categories. The reality is that most people have both masculine and feminine characteristics, and that's just fine." says Vanisa.
We know 3.7% of secondary school students in New Zealand describe themselves as trans or "not sure" of their gender. Which means about 1 in 25 of our young people don't feel like the gender they were assigned at birth tells the whole story of who they are.
"Steps like removing male/female categories is an awesome step in the right direction for being more inclusive of all New Zealanders" says Vanisa. "Even those of us who feel comfortable as either male or female can benefit from less rigid ideas about gender, giving us more freedom to express ourselves in ways that feel most true to us.  And these rigid ideas about gender have hugely negative impacts on transgender and gender diverse people, who often have problems being seen as who they are, and all the corresponding mental health impacts that carries."
We need to collect more information on gender identity in our NZ Census. "Our goals is a Gender Equal NZ" says Vanisa "and with more accurate information about how many New Zealanders are affected by issues like this, we could move closer to achieving true equality for all New Zealanders".
More information on non-binary gender
Most people – including most transgender people – are either male or female. But some people don't neatly fit into the categories of "man" or "woman," or "male" or "female." For example, some people have a gender that blends elements of being a man or a woman, or a gender that is different than either male or female. Some people don't identify with any gender. Some people's gender changes over time.
People whose gender is not male or female use many different terms to describe themselves, with non-binary being one of the most common. Other terms include genderqueer, agender, bigender, and more. None of these terms mean exactly the same thing – but all speak to an experience of gender that is not simply male or female.
Research shows that trans secondary school students in New Zealand are four and a half times more likely to be bullied than their peers.