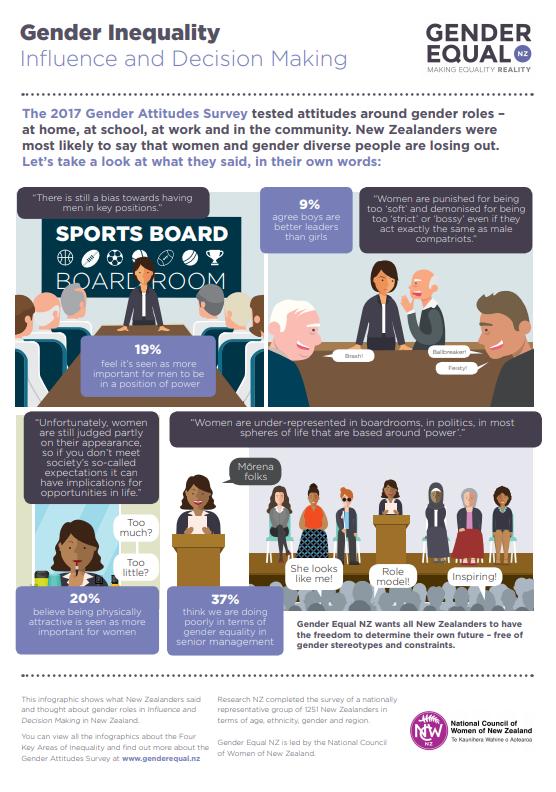 Gender Equal NZ, led by the National Council of Women, ran an award winning Gender Attitudes Survey with Research NZ in late 2017.
The survey tested attitudes around gender roles – at home, at school, at work and in the community and has given us a snapshot of where we're at in New Zealand on gender.
The good news is most New Zealanders (79%) recognise gender equality is a fundamental right for all of us. But we are seeing a pocket of New Zealanders that hold outdated and old-fashioned views when it comes to gender stereotypes and roles.
These old-fashioned views mean that women and gender diverse people continue to lose out in the Four Key Areas of Inequality: Education, Economic Independence, Influence and Decision Making, and Safety and Health. While strong ideas about what boys and men should be like harm New Zealanders of all genders.
View our infographic on gender inequality in Education
View our infographic on gender inequality in Economic Independence
View our infographic on gender inequality in Safety and Health
View our infographic on gender inequality in Influence and Decision Making
Good Guys
The survey results show there are some strong ideas about what girls and women can do and be, and even more about what boys and men "should" be like – and what makes a "real man".
Gender Equal NZ wants all New Zealanders to question ideas about "real men" that get in the way of men being Good Guys – with good relationships with their kids, partners, friends and everyone else. Find out more about Good Guys.
View our Good Guys infographic.
Gender Attitudes Survey full report
View the full Gender Attitudes Survey.
View Research NZ's report on the survey.
In August 2018 the Gender Attitudes Survey won a platinum Research Association award in the Infotools Community Advancement Category. Find out more here.
Benchmark your organisation's gender equality record against that of New Zealand society
We have a unique opportunity for you to apply our survey in your organisation and get a true reading on your staff's views about gender equality and other related issues.
Compare your staff's views by site, department or division, and/or position role, as well as against the New Zealand average.
Applying the survey is simple via an online platform, managed independently by Research New Zealand.
Your staff can be assured 100% that they will complete the survey on an anonymous basis and that they will not be identifiable in any reporting. Reporting of the results is via a user-friendly e-reporting tool. If you're interested in finding out more, please contact info@genderequal.nz
We wish to thank the JR McKenzie Trust for supporting us to deliver this important work.