Out-dated gender roles: Gender pay gap larger among parents than non-parents
New research Parenthood and Labour Market Outcomes, commissioned by the Ministry for Women and undertaken by AUT and the Motu Institute, released today shows that motherhood generally still comes at a significant price for women – and that parenthood remains highly gendered in New Zealand.
The research explores the impact of having children on women's employment and shows that the gender pay gap is larger among parents than non-parents. Wage difference was 5.7 percent between men and women without children, but 12.5 percent between men and women who were parents.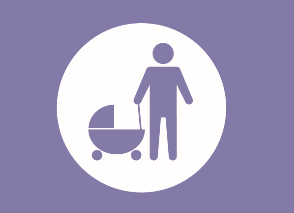 "The fact that we have a persisting pay gap in New Zealand at all is absolutely unacceptable" says National Council of Women CE and Gender Equal NZ spokesperson Gill Greer. "But what we're seeing here is the result of out-dated and old-fashioned ideas about gender roles – and women are losing out because of this."
Our recent Gender Attitudes Survey has shown us that New Zealanders have these strong ideas about what boys and men should be like – harden up and men don't cry – but this ignores the fact that men are absolutely capable of empathy, vulnerability and compassion – all of which help to make great Dads.
Results from the same survey also show that 85% of New Zealanders think that fathers and mothers should equally share responsibility for raising their children.
"Breaking down ideas about traditional gender roles, where men are protecting and providing – being the breadwinner – and women are parenting, is essential to achieving gender equality" says Gill.
Dr Isabelle Sin, Fellow at Motu Economic and Public Policy Research and a lead author of this research has commented that we won't see equality in the labour market until it is just as common for Dads to stay home, while Mums are the breadwinner – and Gender Equal NZ agrees with this.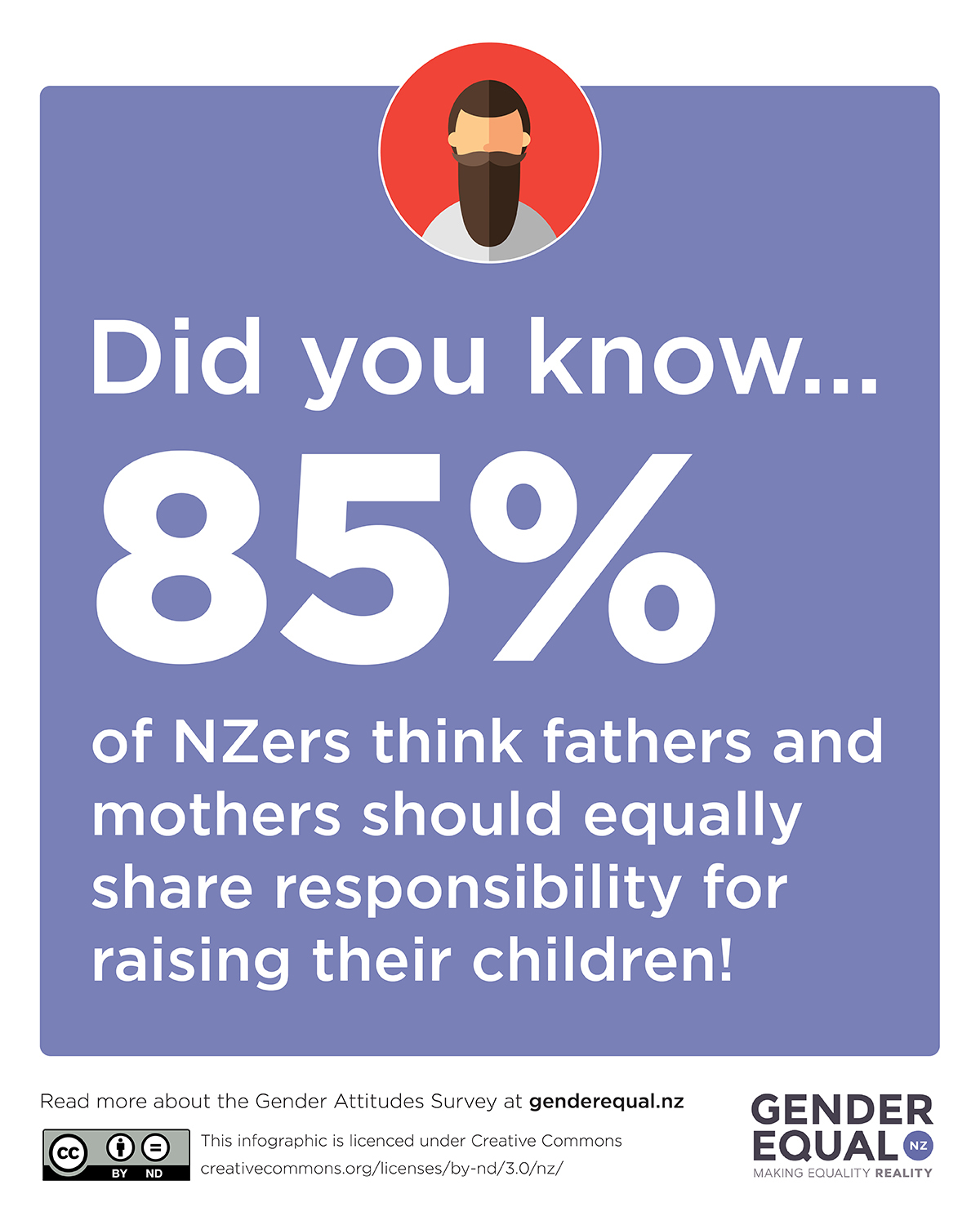 "We'd like to see all parents in New Zealand able to negotiate income and caregiving based on what works for them – not what gender roles dictate. This would increase equality at home and in the work force and would allow Dads to be part of that early bonding time" says Gill.
Parenthood and Labour Market Outcomes results show that motherhood impacts on labour market outcomes differently for different women. For some the result is a gender pay gap, for others an employment gap.
For example, before becoming mothers, Māori and Pasifika women were far more likely not to be employed than Pākehā women, but this gap narrowed after they became mothers. Pākehā mothers have a 59% employment rate in their child's tenth year compared with 41% for Pasifika mothers and 45% for Māori mothers.
"Gender inequality impacts on different groups in different ways – and what we're seeing here is that there are some groups of women who are losing out even more due to racism and other forms of discrimination" says Gill.
"What we know about discrimination and inequality is that they do not not operate in isolation. So for these mothers their experiences and opportunities are affected by both sexism and racism" says Gill. "This creates worse outcomes for them than for other groups of women – but gender equality is a universal human right to which everyone is entitled."
Key findings from Parenthood and Labour Market Outcomes
Women who return to work after becoming a parent earn hourly wages that are 4.4 percent lower on average than the wages they would have earned had they not had children. Women who are out of the paid workforce for more than 12 months experience an 8.3 percent decrease in hourly wages compared with 4.4 percent on average.
Motherhood impacts on labour market outcomes differently for different women. For some there is a gender pay gap, while others are more likely to experience an employment gap.
Becoming a parent has the greatest negative economic impact on low income women. Women with lower income before childbirth are far less likely to return to work at all. Approximately half of low income women are not in paid work ten years after their first child.
The research shows Pākehā women (who tend to delay their first child longest) have a 59 percent employment rate after 10 years. This is compared to Pacific mothers (41 percent) and Māori mothers (45 percent).
Three out of five first-time mothers do some paid work by their child's first birthday.
Mothers who take less than 6 months off work have the highest median paid hours (30), while women returning later work a median of 27 hours.
Women with higher income before having children return more quickly to work.